SAVE THE DATE: Workshop on Lifelong learning for local sustainable growth: Policy and Practices for the Green Transition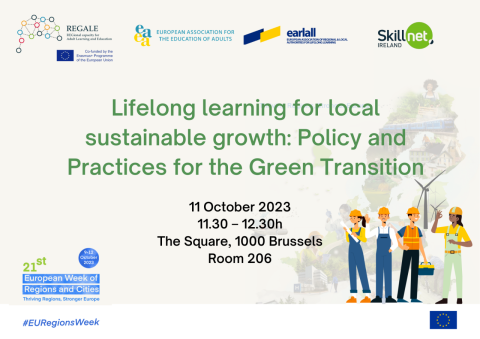 11 October 2023 | 11.30 – 12.30h | Mont Des Art, The Square, 1000 Brussels, Room 206 | Capacity of Room: 52
The workshop will propose an exchange on initiatives that empower local & regional authorities, businesses, and communities to develop the skills needed to achieve a carbon-neutral local economy. Participants will reflect upon a roadmap for building capacity in Adult Learning Education
that was piloted in Europe in the context of the REGALE project, in addition to hearing from practices on building good public-private partnerships, including the example of Skillnet Ireland and Cork City.
Context of the REGALE project:
The workshop is being held in the context of the policy recommendations developed by the Erasmus+ KA3 RegALE – Regional Capacity for Adult Learning and Education – consortium. The policy recommendations are related to the challenges and opportunities of the adult education sector at the regional and local level, and the gaps and needs of the adult learning and education staff to use them for the future steps of the project.
Speakers Include:
Kieran McCarthy, Independent member of the Committee of the Regions and Independent Councilor, Cork City Council (Ireland)
Aoife O'Sullivan, Head of Network development and innovation at Skillnet Ireland
Davide Muraro, Policy and Project Coordinator, EAEA
Iva Janežić, Varaždin County