Challenges and opportunities of adult education in the cities and regions
The background report describes the outcomes of the survey analysis and includes the first recommendations of the RegALE consortium. It identifies and explains the challenges and opportunities of decentralisation of policy design, monitoring, and funding for the adult learning and education sector (ALE). It also describes the needs and assets of ALE organisations working at the regional and local levels: in particular, as regards their capacity to cooperate in their territories, their sustainability struggle, and their internationalisation efforts. The report analyses the results of the survey referring to nine thematic areas: 
Public policies
Adult Education Organisations
Disadvantaged groups
Investments
Systems
ALE workforce
ALE supply and demand 
Governance
Internationalisation
The report has gone through a thorough validation process. It includes more than 50 pages and is available here.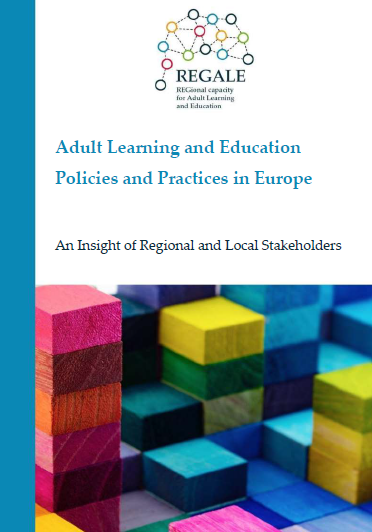 The survey aimed to investigate the challenges and opportunities of the adult education sector at the regional and local levels. It was addressed to adult education organisations, regional and local policymakers dealing with adult education policies, and adult education providers in their countries. The survey was promoted to all the organisations/people identified as crucial stakeholders but was also open to the public. The tool used for collecting data was Survey Monkey, which guaranteed anonymous and safe data collection and diversification of questions according to the respondents' backgrounds. Thus, only one survey was launched rather than two, as envisaged in the application. The consortium gathered 241 respondents. The survey was available online for three months. The required time to fill the quantitative part was approximately 20′ and 40′ for the qualitative one. Respondents also had the option to upload any document they found meaningful in relation to the expressed opinion.