"Innovation in Adult Learning and Education in the Region of Baden- Württemberg"
Written by Aslan Liivak, ENAEA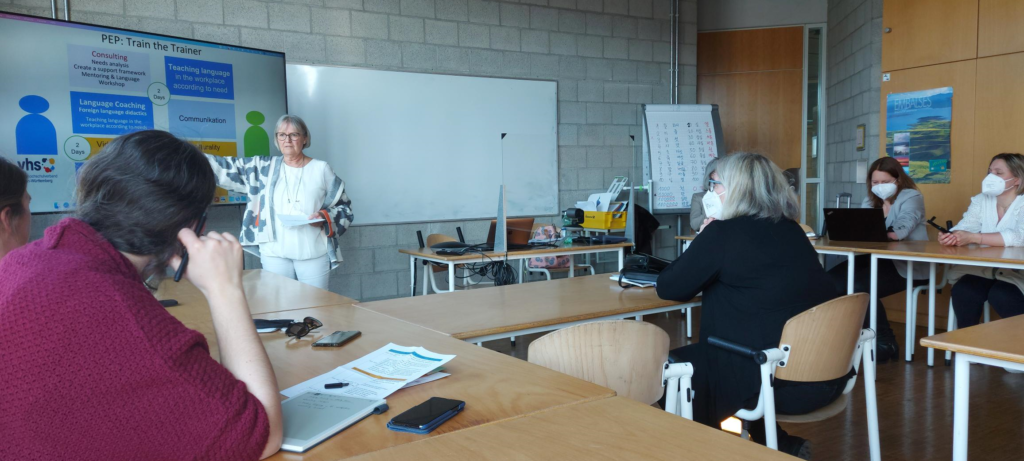 We came from Estonia, Tallinn by combining adult non-formal educational organisations like NGO Meie Kalamaja and NGO Estonian Non-formal Adult Education Association in our delegation and we had a great opportunity to go and learn about the adult education system in Germany for the period of 23 – 25 March 2022. For that purpose, we travelled to Stuttgart. Stuttgart is a beautiful city in southern Germany, located in the state of Baden-Württemberg. It is the sixth-largest city in Germany. Stuttgart is actually mostly known for its automotive industry, as it is the headquarters of both Mercedes-Benz and Porsche. Additionally, Stuttgart is surrounded by picturesque vineyards and hills.


But hiking and wine tasting and visiting museums were not on our list since our attention was on the Stuttgarter Volkshochschule, it is a public institution in Stuttgart, Germany that provides adult education courses, seminars, and workshops. It was founded in 1919 and is one of the largest adult education centers in Germany, offering a wide range of courses in areas such as language learning, cultural studies, arts, health, and technology. The Stuttgarter Volkshochschule aims to provide affordable and accessible education to all adults, regardless of their social or educational background.

Mostly we were interested in the finance of adult education, how is formal and informal adult education combined and also about hybrid teaching in the context of COVID-19.

In this regard, we learned that the Stuttgarter Volkshochschule is primarily financed by public funds from the city of Stuttgart and the state of Baden-
Württemberg. However, it also generates revenue through participant fees, donations, and subsidies from public and private institutions. The exact
breakdown of funding sources may vary from year to year depending on the institution ́s budget and financial needs.

Hybrid teaching, in the context of COVID-19, is a mode of teaching that combines both in-person and online instruction. With the ongoing pandemic, many educational institutions around the world have adopted hybrid teaching models as a way to minimize the risk of COVID-19 transmission while still providing students with opportunities for face-to-face interaction and hands-on learning experiences. In hybrid teaching, students may attend some classes in person while attending others virtually, either through live video conferencing or pre-recorded lectures. This approach allows for flexibility and can accommodate students who may not be able to attend in-person classes due to health concerns or travel restrictions.

Hybrid teaching also requires teachers to adapt their instructional strategies and materials to suit both in-person and online learning environments. This can include incorporating technology tools and resources, designing activities that can be completed both in person and remotely, and providing support and feedback to students in both settings. It was fascinating to see how all this was incorporated in their teaching style.
We learned that in Stuttgart Volkshochschule and with them overall in Germany, there is a growing recognition of the value of combining formal
and informal adult education in order to provide a more comprehensive and flexible approach to adult learning. While formal education typically takes place in structured settings such as schools, universities, or vocational training centers, informal education refers to learning that takes place
outside of these traditional settings, such as through community organizations, non-governmental organizations (NGOs), or self-directed learning.

One way that formal and informal adult education can be combined is through the development of flexible learning pathways that recognize and
value prior learning and work experience. For example, in Germany, there are a number of vocational training programs that allow participants to earn credit for prior learning and work experience, enabling them to fast-track their education and training.

Another way that formal and informal adult education can be combined is through partnerships between educational institutions and community
organizations. These partnerships can help to bridge the gap between formal and informal learning by providing opportunities for adult learners to access education and training in community-based settings, as well as through online and distance learning programs.
Overall, the combination of formal and informal adult education in Germany can help to provide a more holistic and flexible approach to adult learning, one that recognizes the diverse learning needs and backgrounds of adult learners and helps to facilitate their ongoing educational and professional development.

So in conclusion after warm and welcoming stay in Stuttgart we learned a lot about the financing, hybrid teaching and combining formal and informal
adult education model in Germany on the example of Stuttgart Volkshochschule that we can use and already trying to promote and apply in Estonia.